Tacchi FTF1600 Oil Field Pipe Threading Lathe for sale

TACCHI FTF1600 CNC TURNING CENTER with 14" Thru Hole
Stock Number K14191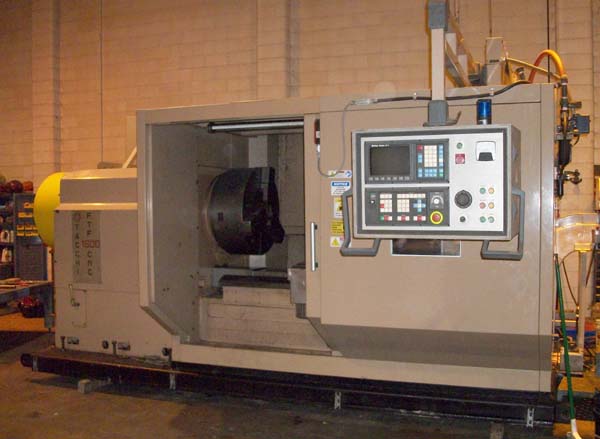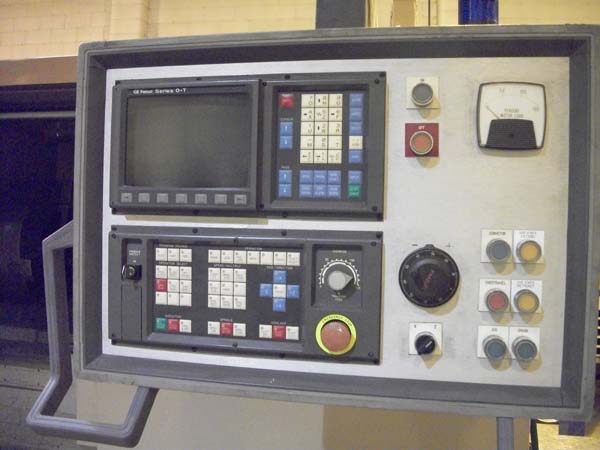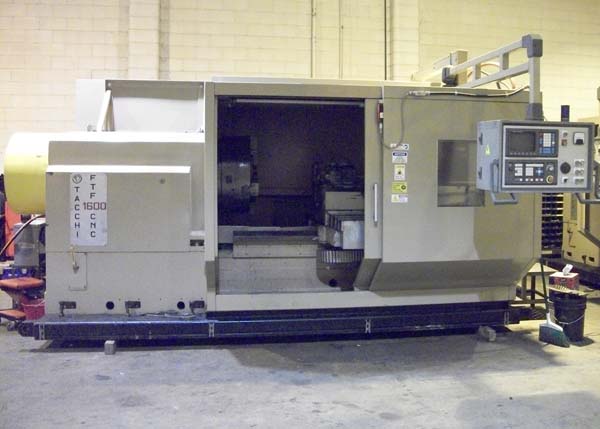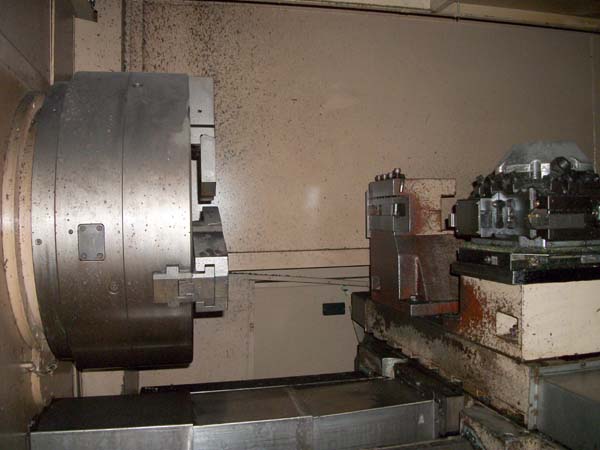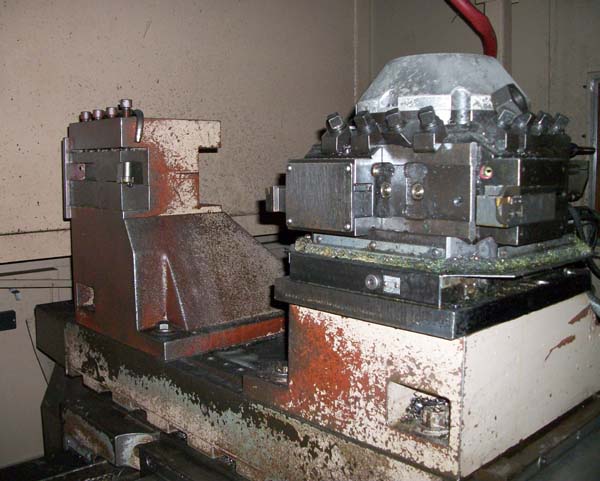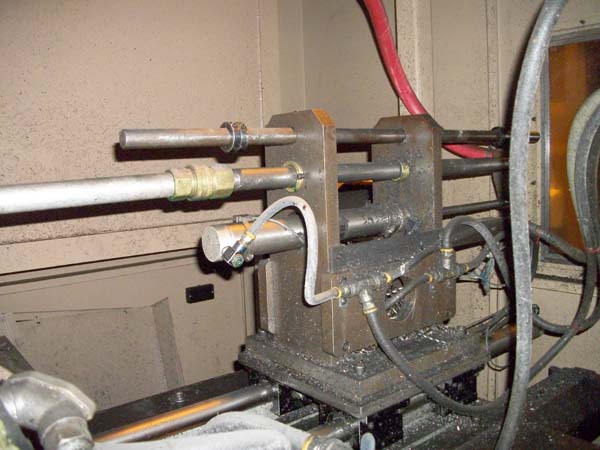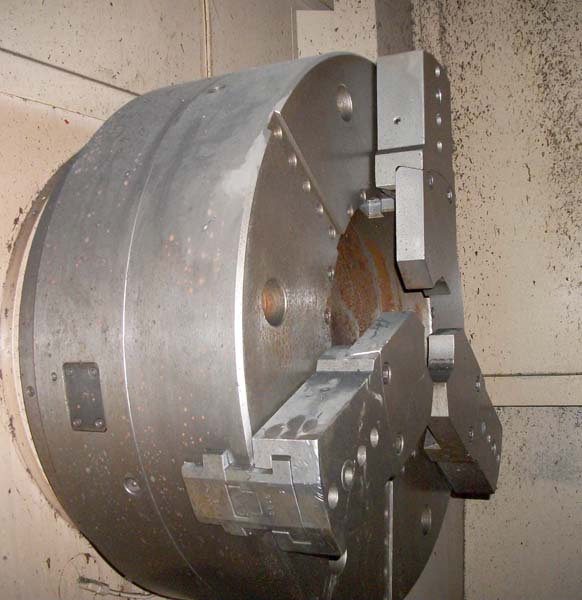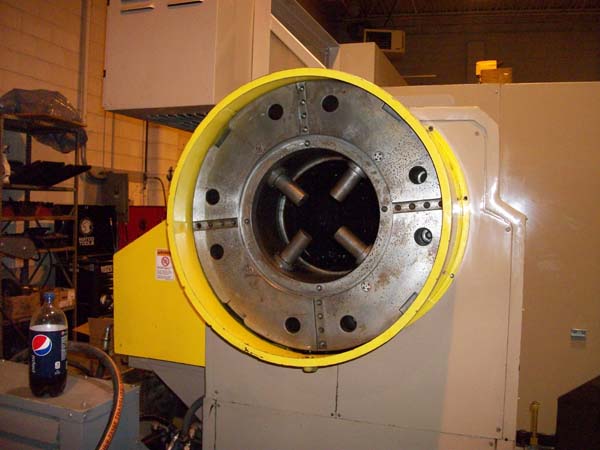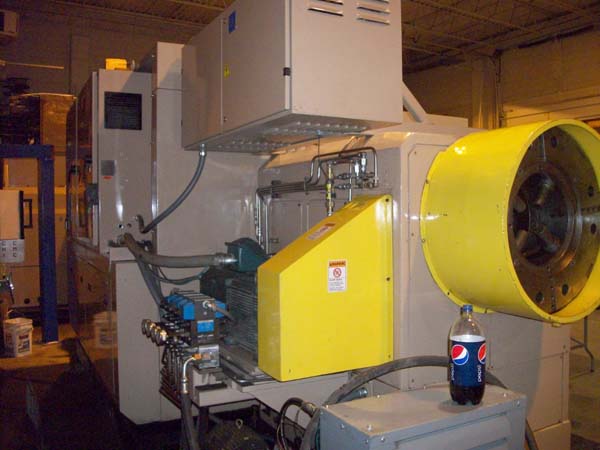 ACTUAL PHOTOS
Tacchi Model FTF 1600 CNC Chucker. Pipe Threading Lathe.
Machine Specifications:
Swing over the cross slide 45"
Bed Width 35.43"
Saddle Length 46.85"
Tailstock None
Height from floor to centerline, including grouting 59"
Spindle Hole 14.569"
Spindle Speed (variable) 25 to 500 RPM
Cross Slide Stroke 28.54"
X axis Ball Screw Diameter and Pitch 1.77" x .394"
Z axis Ball Screw Diameter and Pitch 2.25" x .394"
Main Spindle Drive (Vector digital) Baldor, 100 HP
CNC Control, digital Fanuc OTC
X axis Feed Motor Fanuc 20S
Z axis Feed Motor Fanuc 30S
Power Consumption 460/3/60 - 96KVA
Installation Area 19, L x 14' W x 9' H
Weight, estimated 46,000 LBS

Rebuilt and Retrofit 2006. Machine Updated in 2012 with:
New 100 Horsepower Baldor Spindle Drive motor and digital control, braking and resistors
New Indexing Turrets to allow end cropping and cutting of premium threads
New main electrical cabinets and Allen Bradley safety PLC to meet Canadian Safety Standards
New Hydraulic system, Baldor Motor, Pump, Manifold, Valves, Flow controls and Piping
New Coolant system, Gusher Pump, Motor, electronic coolant float switch, and Piping
New Full sheet metal enclosure with safety door interlock that meets Canadian Safety Standards
New Machine inside lighting, sliding door, removal panels for maintenance
New way covers X and Z axis
New machine sub base to allow loading and unloading by crane or fork lift, coolant storage
New sheet metal to funnel chips to chip conveyor
Machine was completely repainted to match full enclosure and new machine manuals and documentation was generated. The machines have been operational for less than 90 days. Rotomorse Hydraulic chucks, 3 jaw self centering on the front and 4 jaw compensating on the rear, quick change chuck jaws for the following sizes are included with the machine, 4 ½, 5 ½, 7, 7 5/8, 8 5/8, 9 5/8, 10 ¾, 12 ¾ and 13 3/8". The front chucks have master jaws that can float or be centered to accommodate seamless or welded product. The jaw travel is .500" per side for a total travel of 1". The rear chucks have 1" jaw travel per side for a total travel of 2".